Fonepay Digital Conclave Second Edition to be Held on June 3, 2022
Fonepay Digital Conclave Second Edition to be Held on June 3, 2022
Given the rapid digitization of the economy in the past two years, Brandworth Pvt. Ltd. will organize the second edition of the Fonepay Digital Economy Conclave 2022 on June 3, 2022 (Jestha 20, 2079 BS).
This one-day event will have speakers from various spectrums including corporations, government units, start-ups, international partners, and others who have been contributing to attaining the goal of the digital economy will be participating in a series of panel discussions.
Nepalis have become acclimated to several aspects of digital technology, including e-commerce, digital payment, online education, and more, throughout the Covid 19 pandemic. As a result, there has been a significant increase in digital services in many parts of life.
In light of these developments, the Fonepay Digital Economy Conclave 2022 intends to bring together important players to debate the latest trends, growth prospects, and problems of the Nepali economy's digitization.
Also Read: Fonepay Digital Economic Conclave: Initiating Buzz and Paving Roadmaps for Digital Nepal
The second edition of the Digital Economy Conclave will have intensive interaction and debate in four different sessions titled –
'Changing Times, Changing Economy',
'Creating Impacts That Last',
'Nepal-Small Market or Unlimited Possibilities?'
'When will we have a Nepali Unicorn?'
Regarding this most awaited discourse on digital transformation and development, the CEO of organizing company Brandworth Pvt. Ltd., Mr. Mohan Gajurel shares,
"The major goal of this year's conclave is to address the features of digitalization in public life for economic growth and social fairness as economic activities return to normalcy following the COVID-19-related movement restrictions."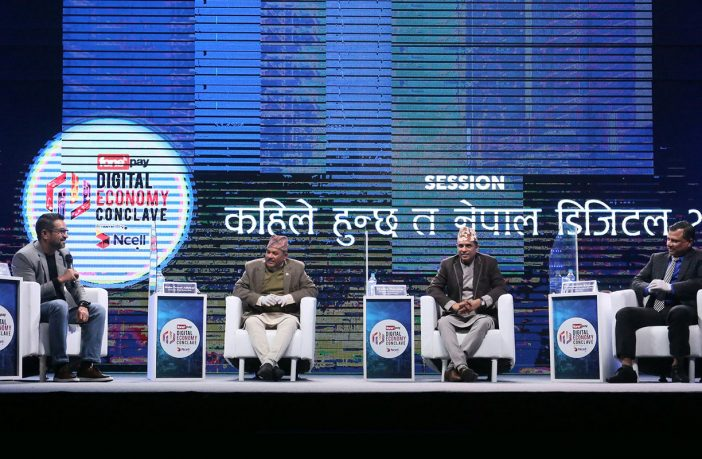 FonePay Digital Economy Conclave was a worthy in itself last year as many discussions made there got their concrete result in the further days.
Some of them were:
As per the announcement of Governor Maha Prasad Adhikari to allow an international payment gateway, NRB allowed the banks to issue prepaid dollar cards with an annual limit of $500 for international payments
Similarly, Namaste Pay is also a commendable outcome of this discussion
Also, following the discussion of interoperability for cross-border payments, FonePay and Visa have already agreed to allow foreign Visa cardholders to make payments by scanning FonePay QR
This year, the discourse is anticipated to open newer ways and explore new ideas for the digital transformation and the fruitful attainment of the goal of a "Digital Economy".
Program Itinerary for Fonepay Digital Economy Conclave 2022- Back to Business
This year, Fonepay Digital Economy Conclave is hoarding the slogan "Back to Business". The key stakeholders in the Nepali digital economy will attend these sessions – representatives of regulatory bodies and major players in the private sector.
The conclave will kick start with the keynote speeches by the guests and speakers like :
Sandeep Ghosh, Visa Group's Country Manager for South Asia and India
Maha Prasad Adhikari, Governor of Nepal Rastra Bank
There will also be separate sessions with Finance Minister Janardan Sharma and Communications and Information Technology Minister Gyanendra Bahadur Karki on digital development in Nepal.
It will take place on the premises of Hotel Soaltee in Kathmandu and will be broadcasted live on the leading TV channels and other digital platforms. The first edition last year happened with only the speakers and was attended by the viewers virtually.